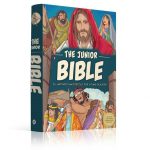 The Junior Bible
With a well-written retold text and new beautiful illustrations this big children's Bible will fit into numerous of situations.
My First Children's Bible
Bible edition with 250 stories especially designed for mission organizations to pass on to children in their ministry.
Big Kid's Little Bible
Big Kids' Little Bible highlights aspects of God's character, His love for us, and His plan of salvation.
This Children's Bible is aimed at families and groups with school children that enjoy reading the Bible together and look to take a step deeper into understanding the Bible Stories. To spark conversation among them, the supporting devotions open up the Bible text and creates opportunity for deeper reflection on the message and what it means on a personal level.
It's all about our children…
Our products are designed specifically to appeal to children all around the world and in Zimbabwe. 
You'll find our books help to promote good character-building through high-quality easy reading material all based on God's word, and that also helps to overcome barriers of language and culture.
My Big Handy Bible
My Big Handy Bible is our retold and illustrated Bible in a large format for ages 3-7.
My First Memory Verse Bible
Rote learning Bible verses establishes truth in our hearts and helps us – both young and old – to become better decision makers. 
My First Handy Bible
Teeming with enthusiasm My First Handy Bible condensates all-time favorite Bible accounts into simple, clear sentences.
School Kid's Best Activity Bible
By engaging with Bible stories in a hands-on way, children will learn by doing and have a blast in the process. 
No Child should be left behind!
We want to make sure that every child has access to God's wonderful Word.
Every time you make a purchase, we will put part of the proceeds towards making sure an underprivileged child will receive a book as well.
Help us bring God's Blessings to all His children in Zimbabwe.
Bible Connect Zimbabwe 2021-2022. All rights reserved.